GUITAR CENTER DRUM OFF THIS FRIDAY JAN. 8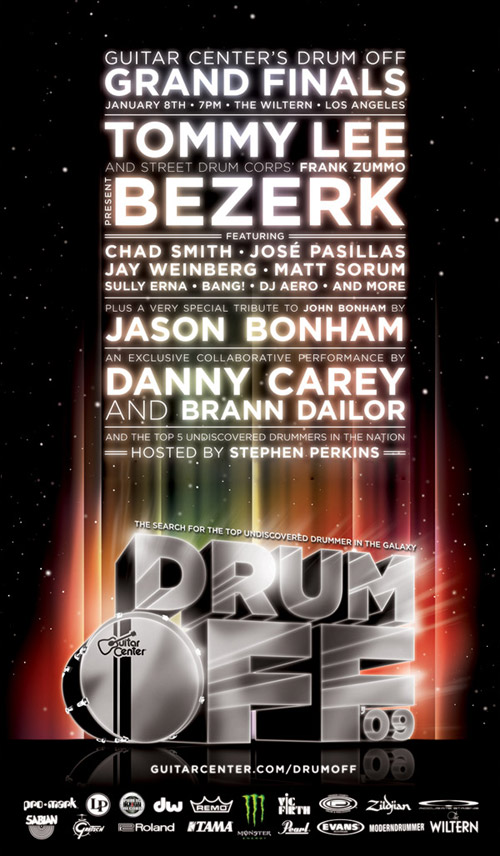 GUITAR CENTER ANNOUNCES DRUM-OFF GRAND FINALISTS AND JUDGES

Top 5 Undiscovered Drummers in the Nation Set to Compete For Title of Drum-Off Champion, $25,000 Cash and More
Judges Include PETER ERSKINE (Steely Dan), TAYLOR HAWKINS (Foo Fighters), DREW HESTER (Joe Walsh), THOMAS LANG, JASON SUTTER (Chris Cornell), KENNY ARONOFF (John Mellencamp), JOHN TEMPESTA (The Cult), TONY ROYSTER JR. (Jay-Z), NISAN STEWART (Jamie Foxx / 50 Cent) and RAY LUZIER (Korn)
January 8, 2010 – The Wiltern – Los Angeles
December 22, 2009 – Westlake Village, CA – Guitar Center today announced the top five finalists of Drum-Off 2009, the world's largest and longest running search to find the nation's top undiscovered drummer. These five finalists will travel to Los Angeles, where they will compete in front of a star-studded capacity crowd at the Wiltern on January 8, 2010. One talented drummer will win a prize package worth more than $40,000 and the title of "Guitar Center's Drum-Off Champion," making them the nation's top undiscovered drummer.
The five drummers battling for Guitar Center's Drum-Off Championship crown are:
Troy Molsberry (Carlsbad, CA)
Eugine McBride (Flint, MI)
Stanley Jamal Hampton (Smithtown, NY)
Ramon Sampson (Cordova, TN)
Michael McGrath (Henderson, NV)
Beating out more than 4,000 other drummers in several rounds of local and regional competitions over the past several months, the five finalists will now face the final round of competition judged by a panel of highly accomplished drum celebrities including Peter Erskine (Steely Dan), Taylor Hawkins (Foo Fighters), Drew Hester (Foo Fighters / Joe Walsh), Thomas Lang, Jason Sutter (Chris Cornell), Kenny Aronoff (John Mellencamp / Sessions Legend), John Tempesta (The Cult), Tony Royster Jr. (Jay-Z), Nisan Stewart (Jamie Foxx / 50 Cent) and Ray Luzier (Korn).
The evening includes an A-list line-up of guest performances, including "Bezerk" – an exclusive project presented by Tommy Lee (Mötley Crüe) and the Street Drum Corps' Frank Zummo, featuring Chad Smith (Red Hot Chili Peppers), Matt Sorum (Guns N' Roses, Velvet Revolver), José Pasillas (Incubus), Abe Cunningham (Deftones), DJ Aero, Sully Erna (Godsmack), Jay Weinberg, BANG! and others to be announced. Hosted by Stephen Perkins (Jane's Addiction), this historic evening will also include a very special tribute to the legendary John Bonham by Jason Bonham, along with an exclusive collaborative performance by Danny Carey (Tool) and Brann Dailor (Mastodon).
Guitar Center will also induct drum icons Billy Cobham and John Bonham into Guitar Center's Drum Legends as part of the evening's festivities.
***TICKETS FOR THIS EVENT ARE SOLD OUT***